2021 Summer Schedule: T.B.A.

The following intended programs for the 2020 season have been cancelled due to COVID-19. Parents were hopeful that with our 'outdoor' approach me may be able to operate. Even with a limited capacity the spaces we rent (for heat relief, inclement weather, washroom, hand washing and cooking use) were not available to us. Many of the community resources we access, that bring fulfilling experiences, were limited and reserved for essential use. Our staff are also with limited childcare and little about this year's operations looked viable. We will surely miss our sprout camper's though and cant wait for the day we can carry on…be safe and well sprout campers!
Sprout Camp @ the Churchill Park Clubhouse: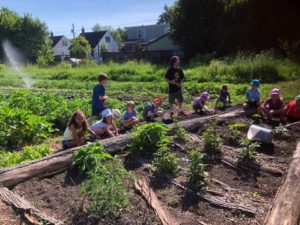 163 Cline Ave N 9am-4pm; extended care from 8:30am-5:00pm.
August 10 – 14  (ages 5-13)  $225
August 17- 21  (ages 5-13)  $225
Sprout Camp @ the McQuesten Urban Farm:  TBA

785 Britannia Ave, 9am-3pm, extended care is not available. *Priority registration for McQuesten residents
Family Camp: July 2- 3, half-day, workshops TBA
Week 1: July 6 – 10 (ages 5-13)
Week 2: July 13 – 17 (ages 5-13)
Week 3: July 20 – 24 (ages 5-13)
Week 4: July 27 – 31 (ages 5-13)
Little Sprouts: August 4 – 7, 9am-1pm (for kids entering JK)
Water Week: August 24 – 28 (Youth ages 12+) earn high school community service hours through environmental explorations and activism, examining how we care for water and how it supports all life. We take daily trips with experts in the community and share findings in creative ways.
Please email: info@mcquestenurbanfarm.ca or call Kelly @ 289-244-7105,  to request a camp spot at the McQuesten Urban Farm.
THE MEDICAL CONSENT FORM NEEDS TO BE SIGNED AND SUBMITTED FOR YOUR CHILD TO ATTEND CAMP

Medical Consent Form:  Email completed forms to getgrowing@sproutcamp.ca
Please let us know of financial concerns; no family will be turned away if you need to Pay What You Can!